You probably know about the McCovey Cove, but in case you do not, here's a brief description. It is a section of the San Francisco Bay, located a little beyond the right field of the AT&T Park, which is home to the Giants. The name, which is not official, was given by two sportswriters in honor of Giants legend first baseman Willie McCovey.
The exciting part about the McCovey Cove is that people have gone in there with boats and nets looking for "splash hits". A splash hit is only counted when a player from the Giants hits a homerun and sends it on the fly and into the waters. Since making a splash hit is a feat in itself, collecting these balls is truly an adventure and some sort of tradition. As of September 25, 2015 and since the Park opened in 2000, only 68 splash hits have been made. Therefore, these are truly pieces of collection for baseball fans.
If you are a baseball fan yourself and would like to get one of these balls, there are some things you should do. First, you need to decide if you will be on a boat during a Giants game waiting for fortune to strike you and actually see a homerun ball splash on the bay or if you will be at the game and come try to find the ball afterwards. If you decide to take the first one, you will definitively miss the game. However, there is a public promenade where you could sit and watch the game for free; with some obstruction, though.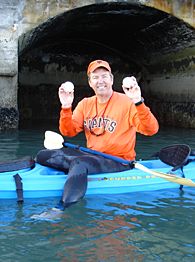 Next thing you will need is luck. Well yes, once you spot a ball soaring in the air you can consider yourself blessed. If you are truly a fan and would like to keep one of these as a souvenir or collection piece, you will need to be at the right moment at the right time. Once you see the splash hit, you will probably have to compete against other fans that are on the same mission as yourself.
One other thing you will need besides a boat is probably a snorkeling suit along with some snorkel gear guide. You will need to get into the water, obviously, and some skills on snorkeling and diving might come in handy.
We cannot describe the excitement caused by the finding of a splash hit, but we will assume that if a homerun at a stadium is in itself is a cause of joy when you catch one, try to imagine when you retrieve it from the ocean water at McCovey Cove. It goes without saying that all Giants fan would love to have one of these. It is a beautiful tradition at China Basin (McCovey Cove's real name), especially given that in 14 years, there have been only 68 splash hits landing in the bay¥s waters. Nevertheless, not only 68 balls have hit the water but there are a recorded 38 balls from homeruns from visiting teams. But these are not recorded as splash hits. However, they could still be a nice piece to collect.